Company Profile
Started in 2000, Micro-coaxial Technology is a high-tech and precision cable assembly manufacturer. We specialize in design and manufacture in micro coaxial cable, LVDS cable, eDP cable, fine pitch micro coaxial cable,RF cable assembly, Ultra-fine pitch cable assembly, fine coaxial cable assembly,micro flex coaxial cable and all kinds of wiring harness.These cable assemblies product are widely used for LCD screen, notebook panel, automotive systems, industrial camera, Laptop,Notebook,Tablet PC, Intelligent household appliances,Cell/Smart Phones, machine vision, Digital Video Camera,Televisions,Medical Instrumentation, Aircraft Cockpit Instrumentation, Smart Appliances, Remote/Flight Control systems,Unmanned aerial vehicle,Automobile Instrumentation,Industrial Control Equipment, Oil Field Equipment, Exercise Equipment, Educational Electronics, Test Equipment,and communications systems and their peripherals.
As a leading manufacturer in fine pitch cable assembly and wiring harness, our professional ability, specialized R&D,nearly 20 year's experience in cable assembly, fully automatic cable assembly line and the highest QC standards allow us to provide our customers the best cable assembly and wiring harness products.We are experts in many kinds of cable assembly and wire harness manufacture.
Based in China we produce customized eDP cables, LVDS cables, micro coaxial cable assembly,v-by-one cable, display cable, mcx cable, mini coaxial cables assembly for LCD panel, TFT display. We provide excellent quality LVDS cable, I-PEX cable, eDP cable, fine pitch cable, mini coax cable, sgc cable, custom LVDS cable assembly. Tooling available for Hirose, JAE, Molex, I-PEX, Samtec, KEL, JST, Tyco Electronics and more. Welcome to contact us to custom micro coaxial cable assembly, LVDS cable, eDP cable, v-by-one cable assembly, miniature coaxial cables, I-PEX cable assembly, KEL cable assembly,JAE cable assembly, Molex cable assembly, Hirose cable assembly, mcx/mcc cable assembly, LVDS cable assembly, eDP cable assembly manufacturer, RF cable assembly, micro coax cable connectors, discrete wire harness. Our professional ability, from quick turn prototypes to full production quantities, Micro-coaxial Technology offers engineered and standard cable assembly for virtually every application.
Cable Assembly & Wiring Harness Manufacturing Capacity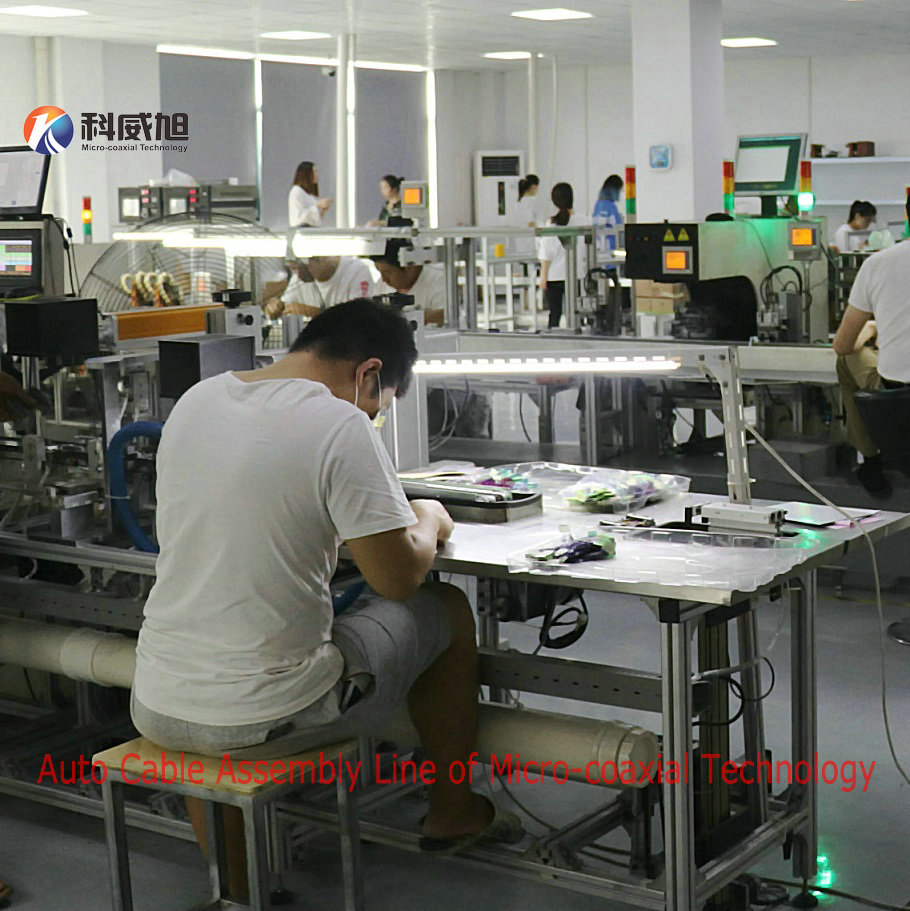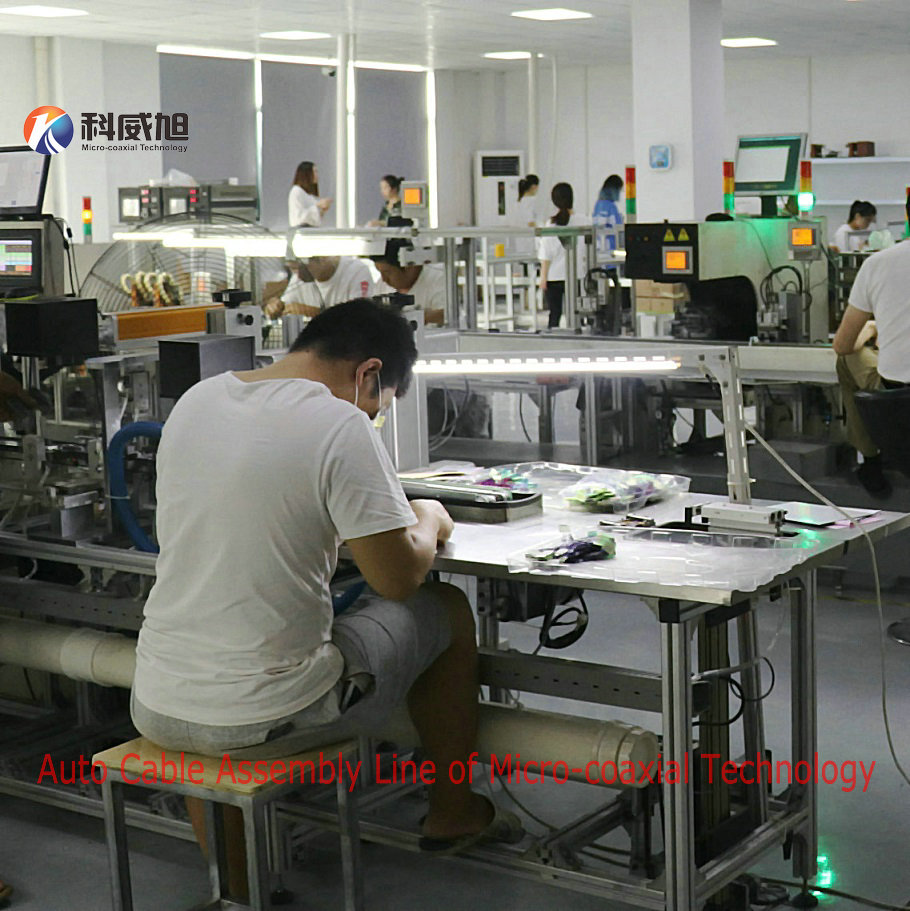 We currently occupy over 15,000 ft² of manufacturing facilities with over 80 employees. There are two Full Automatic micro coaxial cable assembly lines, two Semi-automatic cable assembly lines, four Full Automatic Terminal Crimping Machines and other cable assembly equipment.
Such capacities, allow us to fulfill very large production quantities and deliver products on time to all of our clients. However, not all of our production is based on large quantity orders.We accommodate client, needs for smaller quantities of highly specialized cable and wire harness assemblies and our engineering department, production and QC ensures that these unique assemblies are of the highest quality.
We use the most modern cable assembly equipment and utilize the latest technologies and techniques in quality control. Continuous internal innovations allow us to maintain flexible production schedules and results in increased OEM cable manufacturing capacity. This plays a significant role during our busiest seasons in cable production.
LVDS cable|eDP cable|Miro coaxial cable assembly|ACES cable|twinaxial cable|Board-to-fine coaxial cable|LCD cable|I-PEX cable| v-by-one cable| Wiring harness| Fine Coaxial Cable|Miniature Coaxial Cable|Hirose cable|Micro Flex Coaxial Cable|FFC cable|JST cable|Round cable|micro coaxial cable assembly| Discrete wire harness| Inverter cable|Backlight cable|Ribbon cable|JAE cable|Wiring harness|Samtec cable|Mini Coax|Shielding cable assembly|Wire harness|MFCX cable assembly| RF Cable|Coaxial cable|Display Cable|Molex cable|Fine Teflon Coaxial Cable|KEL cable|Micro Coax|IPEX cable assembly|Micro flex coaxial cable assembly| micro coaxial cable assembly| micro-coaxial cable assembly| micro-coax cable assembly| Micro Flex coaxial cable assembly| Small gauge coaxial cable| SGC cable assembly| MCX cable assembly| Ultra-fine coaxial cable assembly| MFCX| IPEX cable assembly| MCX cable assembly| micro coaxial cable assembly| eDP cable assembly| LVDS cable assembly| RF coaxial cable assembly|Ultra fine coaxial cables are widely used to Medical/Ultrasonographs/Robots/Drone/IoT/Smart Glass/Smart Grid. Micro-coaxial Technology Custom Ultra-fine Micro coaxial Cable|UAV Camera Sensor cable|Drone camera module cables|HD camera module cable|Medical instruments|popular used connectors|such as Hirose DF56-30P micro coaxial cable|Hirose DF36-26P|DF36-30P|DF36-40P|DF36-50P|DF38-32P|DF38-32P micro coax cable|#42 AWG Fine coaxial cable|#44 awg Ultra-fine Micro coaxial cable|#46 AWG ultra fine coaxial cable|KEL USL|KEL USLS|KEL SSL micro Coaxial Cable assemblies|Thin Wire Coaxial Cable|Custom eDP Cable Maufacturer|edp to DP cable|eDP to Display port cable|edp cable assembly|Custom edp cable assemblies|30 pin eDP to DP cable assemblies|eDP cable assemblies OEM|edp cable 30 pin|eDP (Embedded Display Port) Cables|40 pin eDP cable|Custom 30 pin edp cable|30 pin edp cable assembly|eDP MIPI DSI cable|edp lvds cable|Mipi Lvds cable assembly|edp led cable assemblies|custom edp to displayport cable|custom 40 pin edp|mipi dsi lvds edp cable connector|dp video cable|40 pin edp touch|Display Port eDP cable assemblies|JST SUR Connector 0.8mm Pitch IDC Style|XSR connector|Jst 0.8mm Sur Connector|XSR 0.6 mm pitch cable|Jst sur battery cable|Termination fine pitch connector wire harness|custom aces 91209-010 cable|JST SUR 0.8mm Pitch Cable|IDC style cable manufacturer|IDC style cable assembly|Custom Disconnectable type cable|SUR 0.8mm pitch cable|JST XSR Connector|SUR 0.8mm pitch IDC Cable connectors|JST XSR 0.6mm Pitch Connectors|Custom eDP Cable Maufacturer|edp to DP cable|eDP to Display port cable|edp cable assembly|Custom edp cable assemblies|30 pin eDP to DP cable assemblies|eDP cable assemblies OEM|edp cable 30 pin|eDP (Embedded Display Port) Cables|40 pin eDP cable|Custom 30 pin edp cable|30 pin edp cable assembly|eDP MIPI DSI cable|edp lvds cable|Mipi Lvds cable assembly|Custom MIPI Camera cable|Sony Image Sensor Cable|MIPI interface cable|mipi cable assembly|MIPI Camera Module cable|MIPI image cable|Mipi camera cable|mipi connector|KEL cable|KEL USL cable|KEL Camera Cable|Custom MIPI CSI-2 cable|Custom KEL cable|HD camera sensor cable|I-PEX MIPI cable|KEL MIPI CSI-2 Camera module cable assemblies|Hirose DF36 camera sensor cable|Hirose DF56 camera sensore cable assemblies|custom imaging mipi csi-2 cable|custom vision cable assembly|contextual awareness mipi cable|custom biometric recognition cable harness|custom surveillance mipi cable assembly|custom image sensor micro coaxial cable assemblies|MIPI CSI-2 camera cable assembly|Custom camera sensor cable|Custom EDP mipi cable manufacturer| IPEX cable assembly